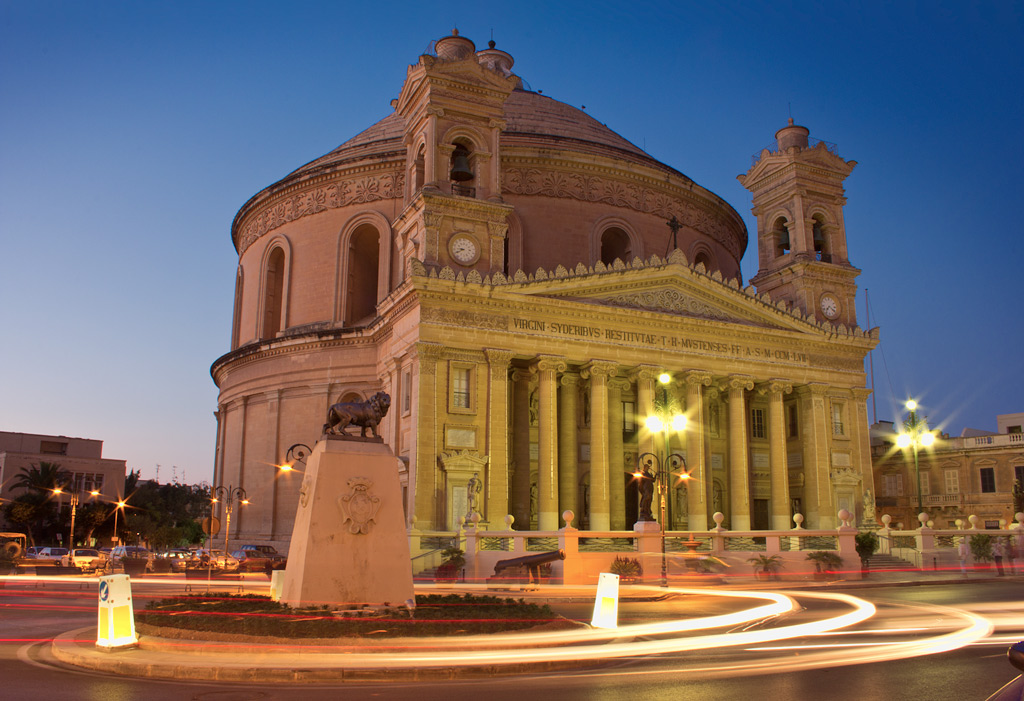 The Maltese archipelago lies virtually at the centre of the Mediterranean, 93 km south of Sicily and 288 km north of Africa. The archipelago consists of 5 islands: Malta, Gozo, and Comino there are 2 other uninhabitable islands Kommunet and Filfla.
Malta is the largest island and the cultural, commercial and administrative centre. Gozo is the second largest island and is more rural, characterised by fishing, tourism, crafts and agriculture. Comino, the smallest of the trio, has one hotel and is largely uninhabited.
Geographic size:
Just 121 square miles, 316 km². Main island Malta stretches roughly 17 miles or 27 km across and the total shoreline of Malta, Gozo and Comino tallies up to a little over 168 miles or 271 km
Population size:
Over 425,384 Citizens – over 146,077 expats – and over 6069 refugees
Population Density:
1,346 per km² (8th most densely populated country/territory in the world, 4th in Europe)
Official languages:
Currency:
The Euro, since 1 January 2008. Previously: the Maltese Lira
Electricity:
230 Volts, 50Hz. Plug type G (3-pin plugs, UK)
Weather:
Average temperatures: 23º C (daytime, annual). Lowest average temperature: 12º C (January daily average). Highest average temperature: 27º C (August daily average). Average hours of sunshine per day (annually): 8.4.
Capital City:
Annual tourist arrivals:
Religion:
Roman Catholic (over 90% of the population)
The number of churches:
Malta and the EU:
Malta joined the EU on the 1st of May, 2004
Handy facts and tips for tourists
Where to get cash
The single currency in circulation in Malta is the Euro. Rough exchange rates (1 Euro): USD 1.12, GBP 0.74 and AUD 1.59 (September 2015).
Several banks (HSBC, BOV, APS and Banif being the major ones) are located in the various localities and several ATMs are situated around commercial and tourist areas. Cards accepted are generally those connected to international networks Cirrus and Maestro and popularly used credit cards such as VISA, Mastercard and American Express are widely accepted (by banks and retail establishments alike).
This is where you can find ATMs of:
HSBC (Select either Branches of "Offsite Self Service Machines")
Looking to exchange currency? Most banks accept exchange and offer automatic currency exchange machines in popular tourist areas. You will also find companies like Fexserv that offer currency exchange at good rates. Local shops in tourist areas that accept foreign currency are logically going to give you less favourable rates.
Telephony and internet connectivity
The country code is +356 and outgoing code is 00, followed by the country code of the international number you wish to dial.
The three major mobile phone network operators are Vodafone, Go and Melita. Coverage for Vodafone and Go on data is generally better, with Vodafone having a slight edge. All three offer pre-paid phone and internet data plans and SIM cards can be purchased from local stationeries (small local shops for writing and office materials) as well. For the best coverage of those planning to travel across the Maltese islands, Vodafone and Go are your best bets, despite the slightly cheaper rates from Melita. If you don't plan to roam around much, Melita should do just fine.
More info on the topic here: Internet connectivity, Wi-Fi and mobile telephony in Malta
Drinking tap water is safe
Tap water is safe for drinking in most areas, though bottled water is preferred by most locals – an issue of taste rather than health mostly.
Shopping hours may vary
Most shops are open all day, from 9am until 7pm, while shops in smaller villages tend to close between 1 and 4pm. Shops are generally closed on Sundays and Public Holidays. Your safest bet is to ask around in the locality of your stay.
Traffic and driving may be different to what you're used to.
Malta is one of the few countries in the world where people drive on the left-hand side of the road, inherited from the British rule of Malta.
The Maltese are known to be friendly and helpful
Most Maltese are friendly and helpful by nature and are usually more than happy to help you with whatever you need. So the best tip to give you is: If you're unsure of anything, just ASK!
There's a ferry that can take you from Malta to Gozo (and vice versa)
Although debates are ongoing over whether a permanent tunnel or bridge should connect Malta to its smaller sister island Gozo, currently it's the ferry you'll need to catch to get there. And perhaps that's a good thing. Gozo is still relatively quiet and rural and a permanent connection may change the island for the worse. You can catch the ferry from Ċirkewwa (northern-most tip of Malta) to arrive at Mġarr, Gozo. It's a 20-minute trip that goes past Comino straight across the channel between the larger of the two Maltese islands.
(Thank you for adding this one on through your comment, Amelia!)
The Maltese love their cars
Over 329,000 vehicles are registered in Malta, which is a big number considering the 425,000 or so inhabitants and relatively small road network. The major reason for this love of cars is said to be caused by the fact that public transport in Malta consists of buses and offer little benefit to owning a car privately. The increasing number of registered vehicles is already causing major issues for the local population with traffic jams and lack of parking spaces being major issues nowadays.
Malta is a popular filming location for big-budget productions
Believe it or not, this small island is an attractive destination for big budget movies, with major blockbuster productions shooting on various locations around the islands. Scenes in movies like Gladiator, World War Z and Captain Philips as well as TV series like Game of Thrones. Check out the full overview of film productions in Malta. Impressive!
There are several political parties in Malta, but only two parties divide all seats in parliament.
In fact, general elections and public referenda are usually won by a small margin. The two major parties are the Nationalist Party (PN) and the Labour Party (PL).
The name Malta may have come from the Greek word Melite
Although the origin of the name Malta isn't 100% certain, it is often suggested that the ancient Greeks called the island Melite (honey-sweet), with voyagers from Greece possibly referring to the country's unique production of honey, thanks to an endemic species of bees found in Malta.
Spring hunting is still legal in Malta
Malta is the only country in the EU that still allows (limited) springtime hunting on specific species of birds, with the Maltese government having negotiated a special set of legislations for the country during EU accession talks to protect the hunter minority. Hunting is a tradition in Malta and although not widely practised, hunters hold significant political power, being able to swing an election into one or another party's favour. A national referendum on spring hunting was held in 2015, during which a significant part of Malta's population, disgruntled by rampant illegal hunting, were hoping to be able to put an end to the practice. Nevertheless, the hunting lobby won the referendum by a small margin.
Opposition is part and parcel of Maltese culture
Many Maltese share similar passions, like religion, politics, football, local band clubs, etc. You'll often find they choose a side and defend their side's ideas/ideals with passion, often resulting in heated (but rarely violent) discussion. Not all passions which the Maltese share include opposing each other, however. The Maltese love the Eurovision song contest and unite behind their representative fervently!
Malta is home to 10 UNESCO World Heritage Sites (confirmed/tentative)
Despite being a small island nation, Malta has 3 inscribed UNESCO World Heritage Sites (Valletta, the Megalithic Temples of Malta and Hal Saflieni Hypogeum) and seven sites are on UNESCO's tentative list. (Grand Harbour, Victoria Lines Fortifications, Maltese Catacomb Complexes, Mdina, Cittadella (Gozo), North West Coastal Cliffs and Dwejra (Gozo). These sites are protected under international law and preserved in the interest of the international community and considered to be of major significance to humanity. These sites should be at the top of your list of places to see!
Traditional Maltese crafts are worth exploring
Glass blowing and Maltese lace are among a few of the local crafts, practised for centuries. The Ta` Qali crafts village hosts a number of workshops where you can see local artisans at work and buy their pieces at very reasonable prices.
Maltese workers enjoy a lot of public holidays
That's right, if you're a fan of having extra days off from work, you're in the right place working in Malta. We celebrate fourteen public holidays each year, which is one of the highest numbers among EU countries.
The Maltese love religious celebrations
Malta hosts 75 local village feasts (or 'festa') between June and September, which is a festivity in honour of the town's patron saint and is originally a religious celebration. The three phrases that summarise such events are fireworks, religious processions and band marches. A few local tour operators organise trips to some of the more popularly celebrated feasts.
Malta has one university
The Maltese Cross is the country's highest educational institution, which offers undergraduate Bachelor's degrees, post-graduate Master's degrees and postgraduate Doctorates (PhD). Having been founded as the Collegium Melitense in 1592, the University of Malta is the oldest university in the Commonwealth outside of Britain.
Historical facts
Malta's known 11 foreign rulers in the past two millennia
During the last 2,000-odd years, Malta has known 11 foreign rulers that left behind various traces that can be found and admired around the Maltese islands. Nowadays, though, Malta is an independent republic, having gained independence from the British Empire in 1964. The country is still part of the British Commonwealth.
Malta was once part of mainland Europe
Around 17,000 years ago, the Maltese islands were the mountain tops of one landmass which connected current-day Malta to Sicily and even mainland Italy
Malta's Megalithic temples are older than Stonehenge
The remains of the Megalithic temples that Malta is known for are the oldest free-standing stone structures in the world, older than Stonehenge and the pyramids of Egypt
It's no surprise the vast majority of the Maltese are Christian
According to the Holy Bible, St. Paul was shipwrecked in Malta and converted its inhabitants to Christianity in 60 AD
The Knights of St John left a big mark on Malta
The Knights of St John of Jerusalem (also referred to as the Knights of Malta) were given control over Malta in 1530 by Charles V of Spain and left their mark on the island until capitulating to Napoleon's advancement in 1798. The Knights of Malta are most remembered for successfully defending the island against the Ottomans during The Great Siege of 1565. The eight-point Crusade cross often associated with the Knights of Malta later became known as the Maltese Cross.
The Mosta Dome was miraculously spared in WWII
The Mosta Dome is one of Malta's largest churches (located in the village of Mosta), known for its dome-shaped roof which is the third largest unsupported church dome in Europe. During World War 2 it miraculously survived bombing by German forces. On 9th April 1942, a bomb weighing some 500 kg was dropped on the church while a congregation of some 300 people were awaiting mass. Although it broke through the ceiling it failed to detonate when it hit the floor. A replica bomb is on display at the back of the church.